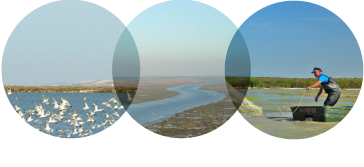 The project
European transnational project with 5 partners and 9 associated partners from 5 countries from the Atlantic Region, coordinated by Bangor University (UK)
Co-funded by the European Union Atlantic Area Transnational Programme (2007 - 2013)
Project duration: 35 months, started January 2010
The challenge
The aquaculture industry is an important contributor to the economic well-being of the Atlantic Area, particularly in rural peripheral areas. However, aquaculture in Europe must be developed in line with stringent EU rules which generate competition from other world regions, particularly Asia and Latin America. The EU aquaculture sector has remained stagnant for the past decade, in stark contrast to global growth of more than 6% per year in the same period. In order to reach its potential, the aquaculture industry must become more environmentally sustainable and address legislative actions.
World Aquaculture Adelaide 2014
Date: 7 - 11 June 2014
Venue: Adelaide Convention Centre, South Australia
World Aquaculture 2014 (WA14) will combine the international annual conference and exposition of the World Aquaculture Society with the highly successful biennial Australasian Aquaculture event.

Many other associations, industry and government will be in attendance as the aquaculture and associated industries convene at the Adelaide Convention Centre for what will be the largest primary industries conference and trade show to be held in the Asia Pacific region for some years. WA14 will make for a tremendous meeting of aquaculture participants from around the world